AN awful  prospect for Pyrmont Residents … it seems the government has it  "all ways"  having re-made Pyrmont into a Harbourside Residential Area can turn around and approve a concrete plant and MUF being operated 24/7 on Glebe Island in what is now a prime residential area!
WHAT brought this about?  The relocation of the Fish Markets, a real estate deal to build over our harbour to develop thousands of new $ multi-million apartments;  three times the size of nearby Harold Park!
A spokeswoman said Glebe Island was a low-cost, low-impact site for the delivery of building materials for projects in Sydney's central business district and the Bays Precinct.
'They have more lawyers, money and firepower': The development that residents are powerless to stop
The NSW government does not trust Sydney councils to approve developments with a high corruption risk or strategic importance – that power has been exercised since last year by independent hearing and assessment panels.
Yet the power to assess and approve the construction of a facility for the delivery of construction materials such as sand, aggregate and cement on Glebe Island rests with the government authority behind the proposal.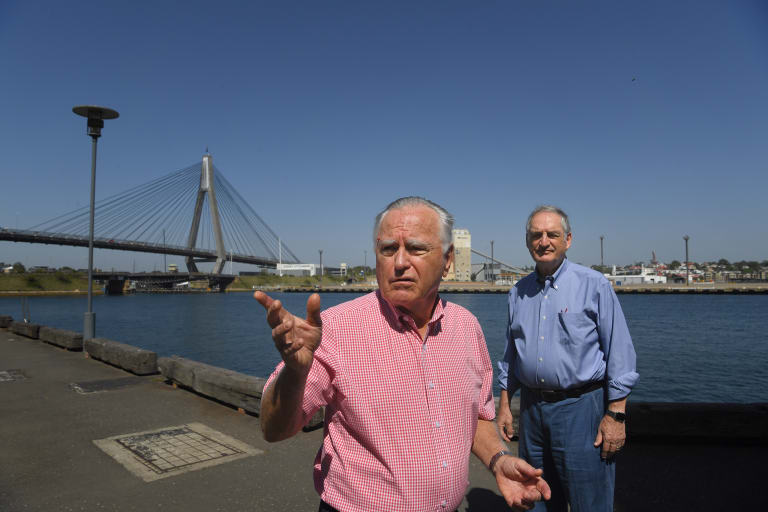 Jamie Parker, the Greens member for Balmain, expressed concern about the capacity of the Port Authority of NSW to green light its own plan for a multi-user facility on Glebe Island. "This makes a mockery of any notion that this approval will be independent," he said.
But a Port Authority spokeswoman said: "This is an automatic and non-discretionary statutory provision and is consistent with the same approach that applies to other public authorities for comparable infrastructure projects."
The spokeswoman
said Glebe Island – located under the Anzac Bridge and across the water from Pyrmont – was a
low-cost, low-impact site
for the
delivery of building materials for projects in Sydney's central business district and the Bays Precinct.
She said delivering materials by sea rather than road brought "significant environmental and social benefits" by minimising congestion, air pollution and road maintenance.
The proposed multi-user facility was "consistent" with the state government's aim to maintain the site as a working port, she added. "Glebe Island has played a key role in supporting Sydney's construction supply needs since the early 1990s and has been a working port for far longer."
But residents living a few hundred metres across the water in Pyrmont are not happy with the shipping facility or the proposed relocation of the Hanson concrete batching plant, which is moving from Blackwattle Bay to make way for a new Sydney Fish Market.
The Inner West Council has also expressed concern about locating the MUF and concrete plant on Glebe Island.
RELATED ARTICLE
Christopher Levy, the chairman of the Jacksons Landing Coalition, said the Port Authority had the legal right to build the shipping facility.
"They have more lawyers, more money and more firepower than we could ever amass to fight them on legal grounds," he said.
"What we believe is that neither they, nor any other state government department, has the moral or ethical right to walk all over local residents who have valid objections to the proposed concrete plant and MUF being operated 24/7 in what is now a prime residential area."
Unlike the Port Authority's proposal, the concrete plant is subject to planning processes as a state significant development.
Mr Levy said the proposals would create traffic congestion, air pollution, noise and hazards for marine craft using Blackwattle Bay: "Changing back to an industrial shipping and storage site will do great harm in a number of ways."
Mr Parker expressed concern about the impact on residents of the port operating around the clock.
"There are no bans on ships running generators while berthed or leaving their industrial lights day and night," he said. "Residents are facing years of constant dust, noise, air pollution, increased truck movements and contamination of harbour waters."
A spokesman for the NSW Department of Planning and Environment said: "When assessing other developments in the Bay area, the Department of Planning will consider cumulative impacts as part of its assessment of any development application."