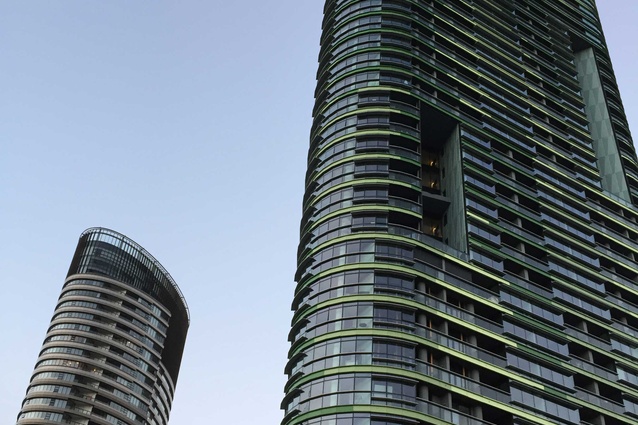 OPAL TOWER:  HOW OFF THE PLAN WILL NOW BE OFF THE TABLE!
THIS article penned by Jonathan Chancellor is about buyer hesitation, and this besides the article "Beams a Fault Line in Tower" … then in the editorial it is "Boom Should Not Go Bust"
HOW things could improve?
… well the system needs to be overhauled to restore not only confidence but Regulations, and rigour into the whole approval process …
THE GOVERNMENT needs to get with the programme, and come clean …
AFTERALL they created this entire mess as it was them who kowtow'd to deve-lopers to get a so-called 'OPEN' system …
That is really Code for "let us be free of Regs", and make $$, and the 'trickle down effect' will take care of itself, and everyone else … just like a good Ponzi Scheme …
Photo:  NSW Minister for Planning and Housing Anthony Roberts addresses the media with Professor Mark Hoffman (left) and Chairman of the Opal Tower body corporate Shady Eskander. Picture: Joel Carrett/AAP.Source:AAP
Opal Tower: How off the plan will now be off the table

Comment Jonathan Chancellor, The Daily Telegraph
16 January 2019
Property markets don't like uncertainty.
And the interim report on the cracking issues affecting apartments in Sydney's Opal Tower failed to help.
It let down not just the frustrated owner occupiers and tenants, but Sydney's entire new build apartment industry.
The investigation ruled out extreme weather, poor quality materials and those initial suggestions it had something to do with the foundations.
It instead pointed to the hob beams and the precast concrete panels that rest on them.
Every anxious off-the-plan buyer henceforth will be asking questions about hob beams, a hitherto unknown building term to the masses.
The report of the independent engineers isolated the probable cause to localised structural design in the complex proud of its innovative garden design incorporated within the high-rise floors.
The high-rise was called "unique" given this design.
The shocks of the Christmas Eve cracking will continue for years beyond the dramatic evacuation, possibly until the blame and liability is finally sheeted home.
There will be an immediate drag on the sales in other newly built apartment blocks.
Buyers will understandably be very nervous.
The lay person, and potential buyer, will wonder just how could an impressive-looking high-rise that had ­satisfied many planning authorities, including the Sydney Olympic Park ­Authority, Auburn Council, the NSW Department of Planning, and the Building Code of Australia, have such a structural problem more akin to the third world than Sydney.
The off the plan apartment sector was already facing the headwinds of oversupply along with dampened valuations and a credit crunch, but now there will be understandable hesitation before buyers sign up to purchase.
Photo:  Shady Eskander speaks at a press conference in Sydney to release the interim report, with (from left to right) Professor John Carter, Professor Mark Hoffman, NSW Minister for Planning and Housing Anthony Roberts and NSW Planning and Environment Secretary Carolyn McNally. Picture: Joel Carrett/AAPSource:AAP
(Text copied from a copy of the Daily Telegraph)
CAAN FACEBOOK:
https://www.facebook.com/Community-Action-Alliance-for-NSW-744190798994541/?ref=aymt_homepage_panel
WEBSITE:
https://caanhousinginequalitywithaussieslockedout.wordpress.com/