THOSE '7.30' PIECES ABOUT REAL ESTATE … a House of Cards …
HAVING had another view of the three-part 7.30 "House of Cards" it seems that the Auction coverage was heavily contrived.
At CAAN we don't recall seeing the footage before.  We doubt that it was in Sydney, and certainly could not have been of recent date!  And not in a sought after area!
IT was certainly not reflective of auctions seen in Sydney in recent years.  WITH at least one in four Chinese buyers of our residential Real Estate (a very conservative estimate) …
PERHAPS an explanation for this "contrived auction coverage" lay with the majority of the ABC BOARD having been handpicked by LNP Communications Minister Mitch Fifield … and why this three-part series was so sanitized, and explains why the true facts are ignored?
The episodes came across as a 'sympathy vote' for real estate  investors, and landlords … was ever so slightly the sub text.
WITH the commentators warning of calamity … you can see the scenario they are alluding to for Australians:
-that Australians should give up on home ownership; and continue to fill the coffers of developers to be their life-long tenants in their "Build to Rent" projects
Thus denying that this Chinese buying of our Real Estate has any impact on the market … an utter deliberate construct to suit other agendas
VIEW: CHANGES TO NSW LEGISLATION … WITH sinister Planning Minister set up in a Planning Ministers Corporation as NSW Treasurer pushes "Build to Rent" for Sydney Millennials
https://caanhousinginequalitywithaussieslockedout.wordpress.com/2018/05/07/a-nsw-government-report-flying-under-the-radar-that-ties-in-with-nsw-treasurer-pushes-build-to-rent-updates-to-the-ep-a-act-to-commence-1-march-2018/
VIEW:  SPONSORED:  Push by Developers to gain Taxation Benefits for 'Build to Rent'
https://wordpress.com/post/caanhousinginequalitywithaussieslockedout.wordpress.com/915
Offering long-term rental leases up to five years, the developer has created management and services division providing residents with an app for booking, paying rent, booking childcare, sharing cars and organising cleaning … to empty tenants wallets …
VIEW:  https://caanhousinginequalitywithaussieslockedout.wordpress.com/2018/11/25/4679/
Build to Rent with a sub-market of "Co-Living";  with a landlord leasing out rooms in an apartment complex with communal areas, services of cleaning and laundry, and a host to organise group activities … all included in the rent.
Prices for a room start from $525 a week, depending on the room type.
View:  https://caanhousinginequalitywithaussieslockedout.wordpress.com/2018/08/29/1307/
Aspiring Australian First Home Buyers have not only been negatively impacted by the high wealth foreign competition, but are now facing a credit crackdown!
What was not mentioned or dealt with in depth:
.the poorly built high-rise towers – as detailed in various reports
Defects in a Sydney building.CREDIT:ROSS TAYLOR 
Find out more in CAAN Website Category:  ENGINEERS AUSTRALIA REPORTS ON DEFECTIVE APARTMENTS CLADDING
And more!
.the poor housing stock rented;  unfit for occupation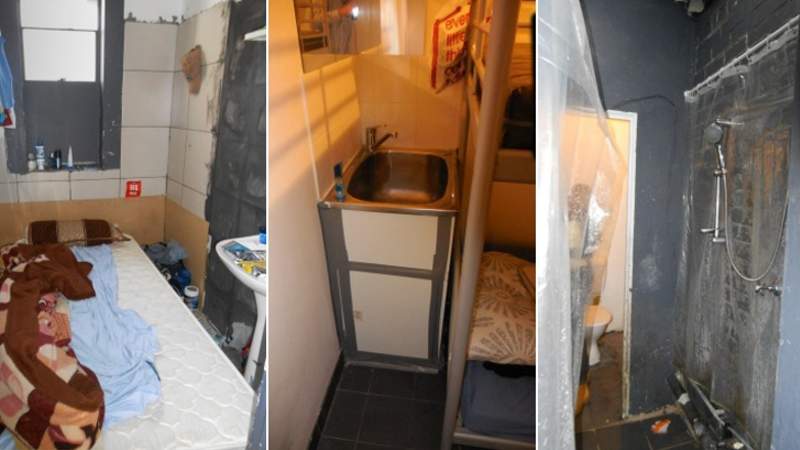 Illegal accommodation: City of Sydney cracks down on black market … 
.the failure/reluctance/refusal of landlords to repair rental properties 
.the 'black economy' rental properties
.the contrived repairs and maintenance expenses claimed but not done
.the absence of standards and protections for renters, should tenants complain with the most common response being threatened with eviction 
No mention of establishing minimum standards that rental properties ought to meet, as in other countries
.no mention of these 'new Boarding Houses' and the rise of 'rental entrepreneurs'
BOARDING HOUSES are causing real problems through R2 in Sutherland Shire.
VIEW:  https://caanhousinginequalitywithaussieslockedout.wordpress.com/2018/12/01/4927/
LOOKS LIKE the DEVELOPER LOBBY is wielding its Power & Influence to Push for more than 12-Room Boarding House Developments
The demand for "boarding houses" has been created by LNP policies and the Property Sector with the sell-off of Public Housing,  and high rentals due to the competition for housing from overseas …
ONCE AGAIN this sector is bulldozing community rights of those residing in R2 Zones with changes allowing for Boarding Houses Nextdoor!
VIEW:   https://caanhousinginequalitywithaussieslockedout.wordpress.com/2018/12/10/5423/
.to make aspiring Australian First Home Buyers life-long tenants
.no mention of the dilution of the Public Housing sector, the sale of public housing stock
CAAN PHOTO:  A large section of what was formerly the Public Housing Ivanhoe Estate, architect designed and set in a bushland setting. Located at Herring Road Macquarie Park; only some 26 years old!  Demolished largely for private development and foreign buyer market
CAAN PHOTO:  Remaining apartments in the Ivanhoe Estate; demolition delayed to enable the Department to find alternative accommodation for these tenants
.no mention of the vertical integration of housing developments by foreign companies developing housing estates in Australia for foreigners
CAAN PHOTO:  Chinese Greenland Lachlan's Line, Macquarie Park. This precinct is set to double in size!  With 2700 dwellings.  Chinese Country Garden "Ryde Garden" is in the background.  Numerous foreign-developed apartment projects across Ryde and Macquarie Park.
The list goes on…
.repeated patterns of exploitation of the more vulnerable people in our society
.no challenge was made to the concept that it is a 'noble endeavour to generate wealth from a need like shelter';  it's just another tradeable commodity;  the commodification of housing
FINALLY, that somehow striving to own a home needs to be re-thought;  that renting for life (tell it for what it is, being an income stream for entrepreneurs) is somehow okay; that we should be more like other countries where owning a home is set aside for more affluent people …
CAAN FACEBOOK:
https://www.facebook.com/Community-Action-Alliance-for-NSW-744190798994541/?ref=aymt_homepage_panel
WEBSITE:
https://caanhousinginequalitywithaussieslockedout.wordpress.com/