LOOK at the Who's Who of those "on the make" revealed here … and as previously shared with you … Consolidated Land and Rail Australia (CLARA) has robbed Beyond Zero Emissions (BZE) of its development of HSR connecting Melbourne, Sydney, Newcastle and Brisbane … it was what we all wanted to replace a polluting second airport at Badgery's Creek.
CLARA is about "Value Capture" …  a $200B dream of an entrepreneur from NSW Southern Highlands, Nick Cleary who has assembled a consortium of Hitachi, GE and a board including Andrew Robb (sold our Darwin Port), Barry O'Farrell, Steve Bracks, and teams at RMIT and CSIRO working on designs for "smart cities"
Join the dots with the Scomo Government push for migrants/visa holders for the regions … and with ever more foreign students  …
More farmlands to be rezoned for house and land packages for foreign buyers … will the NSW Legislation for compulsory acquisition and land amalgamation come into force?  So much for the environment … zip …
To find out more also view:
Bennelong MP John Alexander Magic Bullet … 15 MILLION Mega City from Newcastle to Nowra
And SEARCH for CLARA
P.S. vote them out …
How high-speed rail would affect prices and spark investment in regional centres
A high-speed rail network out of Sydney would spark significant investment and population growth driving up property prices by up to 25 per cent, say developers and business interests already positioning themselves for the growth.
In the lead-up to a state election in 2019, the NSW government recently announced its vision for four potential high-speed rail corridors from Sydney – to Orange, Nowra, Canberra and Newcastle – that would improve connectivity and cut travel time to regional centres up to 75 per cent.
The Labor opposition supports a fast rail between Canberra and Sydney as well, while its Victorian counterpart has opted to spend $50 billion on a suburban rail network in Melbourne.
A high-speed connection from Sydney to Canberra via a second Sydney airport and Goulburn would allow commuters to get between the two cities in an hour, while a trip from Sydney to Newcastle would take 45 minutes and half an hour to Wollongong.
David Borger says such a project would drive investment around regional hubs and designated Sydney stations. Brook_Mitchell
Sydney-based developer Colin Curran, chief executive of Maxiwealth Holdings, said property prices and demand in Goulburn would increase significantly if the high-speed rail went ahead.
"[Prices] could increase by as much as 25 per cent in the initial period, which would push a standard block from $260,000 up to over $300,000 or $350,000 – but you'd still be well under the prices of Sydney," he said.
Investment hotspots
But while developers would probably jump at the opportunity to invest in Goulburn, Mr Curran said there was not a lot of land available and it would be up to the council to rezone it.
Mr Curran is already ahead of the curve having noticed the potential of the regional town several years ago. He has several projects in Goulburn under way, including house and land packages with an affordable housing component, as well as a proposal for a mixed-use development with 30 apartments and a childcare centre .
"Goulburn is our main focus, I think it's got a lot of potential, especially once this train is planned and it goes past the new Badgerys Creek airport," he said.
Adam Murchie, director of real estate investment firm Forza Capital, said proximity to strong public transport infrastructure such as high-speed rail would be a major driver of residential and commercial offices, and land in and around transport nodes like Goulburn or Lithgow would become "hugely beneficial".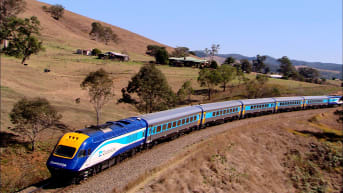 A fast-train link could cut travel time from Sydney to Canberra from four hours to one hour.
Mr Murchie also identified Canberra, Wollongong and Newcastle as potential investment hotspots, citing the universities in each city as a key driver.
"You'd be unlocking those areas in the way of the rail infrastructure and creating a framework that allows people to remain in those areas," Mr Murchie said. "With increasing pressure for universities to commercialise the research that they are doing, a lot of people [who have studied or worked at a university] tend to stay in those areas".
Mr Murchie said a high-speed rail network could take the pressure off Sydney housing and property prices, depending on how much demand was shifted to regional locations.
"[A fast-rail network] could get house prices in Sydney closer back to the point of equilibrium, in terms of keeping price growth constrained, not zero, but fairer so your price growth marries up with economic and wages growth," he said.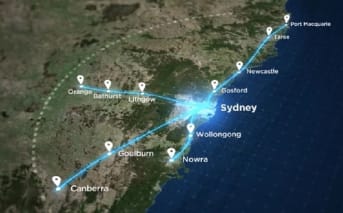 There are four potential high-speed train lines out of Sydney the NSW government will investigate. Supplied
While a fast-rail network could take some pressure of housing constraints and affordability in Sydney, property in those regional hubs and around earmarked Sydney stations would become more expensive as demand increased.
"The places within an hour or hour and a half of Sydney would have the biggest increase in values, and [it would become less affordable] for people living in Sydney who are close to those high-speed rail stops, which would be the catalyst for residential and potentially commercial office development because they are accessible to a wider workforce," town planner and Western Sydney director of the Sydney Business Chamber David Borger said.
Wollongong connection
Mr Borger anticipates developers and investors would start to reserve and acquire land around those corridors and stations earmarked for a high-speed rail ahead of time if there were certainty around the project.
"The important thing is the market will respond to certainty and if lines could be locked in early and the market can be given a degree of confidence it could actually happen you might see some investment starting to occur before the public transport is delivered," Mr Borger said.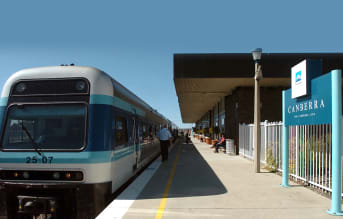 It currently takes about four hours on the train from Sydney to Canberra. Graham Tidy
Improving connectivity between Sydney and Wollongong would not only encourage more residents to move to the coastal city but would see an increase in investment flows and businesses relocating there too, according to Wollongong City Council economic development manager Mark Grimson.
"One of the unique features of Wollongong is that we have a large commuter pool so we have a ready-made workforce. There are 9000 white-collar managers and professionals commuting to Sydney every day and 300 CEOs and general managers. If you improved connectivity between Sydney and Wollongong there's no doubt it would also make it more attractive to have your business located here," he said.
Mr Grimson said there had been $1.3 billion of investment in Wollongong's CBD in the past five years and a high-speed rail connection would see that grow even further.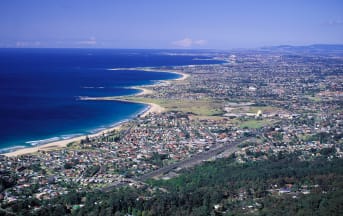 More businesses would move to Wollongong if there was a faster train connection, Wollongong City Council economic development manager Mark Grimso says. JohnCarnemolla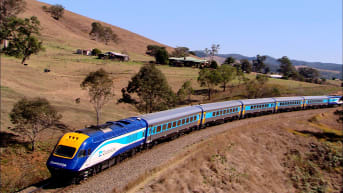 SOURCE:  https://www.afr.com/real-estate/how-highspeed-rail-would-affect-prices-and-spark-investment-in-regional-centres-20181206-h18t4e