This community fight has been ongoing for at least 8 years however, with the appointment of the new Planning Minister the island is under imminent threat of overdevelopment … as "the gateway to the Central Coast"!
Photo:   Peat Island should contain an Eco holiday resort for Australian Families; its Heritage and Environment protected from "cutterbox-crap" development for foreign buyers!
The "foreign buyers" WHO upon real estate purchase gain "permanent residency" with Constituents benefits!
DEMAND NSW INC DESIST WITH OVERDEVELOPMENT OF THE CENTRAL COAST!
Back in April 2017 the Daily Telegraph reported the proposal had been lodged with the NSW Planning Department for "gateway determination"; the third plan for the island since 2011 but consultation this time was "strange".  Locals were shown a picture in August 2016, and asked "what do you think of this?"  No consultation had taken place!
The locals spell it out … the so-called "consultation" is B.S.
BE AWARE … be "very aware" NSW Communities this is how NSW INC is likely to treat your "patch" when the "developers Vanguard" i.e. NSW Planning comes knocking!
NOTE CAAN highlights!
Read more:
APRIL 2017
https://caanhousinginequalitywithaussieslockedout.wordpress.com/2018/12/14/plans-for-peat-island-propose-more-houses-but-national-trust-want-to-keep-heritage-locals-want-tourism/
DECEMBER 2017
https://caanhousinginequalitywithaussieslockedout.wordpress.com/2018/12/13/peat-island-plan-public-consultation-to-start-next-year-locals-scepticism-justified/
Property NSW close to resubmitting Peat Island planning proposal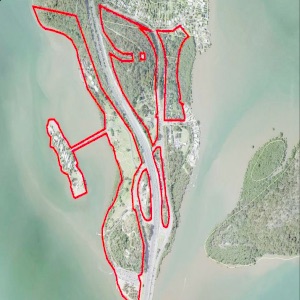 Property NSW, the state government's real estate agent, is close to resubmitting a proposal to determine the future of Peat Island and Mooney Mooney to Central Coast Council.
*John Andrews, Secretary of the Mooney-Cheero Progress Association, said representatives of Property NSW had met with community members at the beginning of November and stated they were getting closer to finalising the proposal to rezone land decommissioned as a mental health institution in 2010.
Property NSW informed community representatives that their final planning proposal would have some differences to the 2016-17 proposal.
*"My feeling is they haven't changed much," Andrews said. If the proposal remains largely unchanged, nine sites would be used for medium-density residential developments, up to three storeys, on both sides of the M1 Motorway.
"For the past 18 months, they have been responding to the Planning Department, which said they had to get some more comment from various government agencies," he said.
"Those government agencies have reported back, but we don't see those reports until they make their final submission to Central Coast Council."
The progress association has been corresponding with Council regarding the three month community consultation period. "We want a discussion with Council before the consultation," Andrews said.
"We want to have some ability to agree on the consultation process rather than just have it thrown at us," he said.
Council's Director of Environment and Planning, Scott Cox, wrote to the association agreeing to a pre-consultation discussion.
"I regard that as a great point that has been reached," Andrews said. "Most of these consultations aren't consultations at all, they are simply 'we are telling you what we are going to do and you can make a comment if you like, but we will do it anyway'," he said.
*"We are trying to make sure the consultation is between Council and us, and that Property NSW, who will want to make a shiny presentation, are not part of it," he said.
Member for Gosford, Liesl Tesch, said the saga of Peat Island was continuing, with the State Government revealing its latest concept plan. "The latest iteration is another in a long line of applications made by the Liberal Government to rezone the land for sale," Tesch said.
"Despite the history of applications and promises from the Liberal Government, Mooney Mooney locals have never been consulted regarding the site, which will have far reaching impacts on their community," she said.
*"The State Government has been sitting on their hands with Peat Island for eight years, and all of a sudden we have a Minister talking about how many berths the marina will have, and how many buildings there will be in what precincts, without a skerrick of consultation with anyone outside of property developers.
"This land is the gateway to the Coast and should be more than a mini Gold Coast. "The community have been asking for years for proper consultation so the Government can strike the right balance between nature, heritage and development.
"The Minister for Finance and Property NSW need to understand that Peat Island isn't a ghost story used to attract potential investors."
The Concept Masterplan to be presented to Council will include tourism, retail, marina and dry dock, and residential dwellings on the 38 hectare site. The public exhibition and community consultation are scheduled to take place in 2019, along with "rezoning, gazettal and market sounding".
The land is zoned SP2 Hospital, and the new zoning would be tourism, local centre, residential and open space.
The benefits of the rezoning would be activation of dormant land, diversity of residential dwellings and an "economic driver for the local community, including 150-plus jobs. "A key component to the proposal is the unlocking of Peat Island, where the current land use zoning reflects the former institutional land use, limiting permissible uses.
*"The revised proposal includes more than 21 hectares of open space for the community, including an 11.3 hectare expansion of the adjacent Popran National Park." Property NSW has projected that the rezoning will "yield" 268 dwellings and 93 tourist units on the land.
The intended outcomes will require amendment of Additional Permitted Uses, Floor Space Ratio, Height of Building, Land Zoning and Lot Size maps.
*Height of Building limits will be changed to maximum heights of 8.5m, 9m and 12m to specific land within the site. Minimum lot sizes of 400 square metres and 550 square metres will be applied.
*An Ecological Review of the Concept Plan identified that proposed RE2 Private Recreation zone and marina, represent a high marine impact risk.
"This locality comprises sensitive mangrove vegetation and an estuarine environment.
"The review recommends that an Environmental Impact Statement (EIS) would likely need to be prepared for these aspects of the proposal. "Future survey and impact assessment will be required across the site to determine impacts and further mitigation measures and management options … where potential impacts are identified.
*"A search of the Aboriginal Heritage Information Management System (AHIMS) identifies that the site comprises items and/or places of Aboriginal heritage.
"A due diligence Aboriginal heritage assessment … identified both recorded Aboriginal sites and areas where Aboriginal sites are likely to occur.
"Further archaeological investigations of the study area are required.
"It is envisaged that conservation management requirements may be included in a site-specific Development Control Plan (DCP)."
The site also includes the grave of Francis Peat and ruins of Singleton Mill, and Peat Island itself has been identified as a place of high heritage significance.
*Central Coast Council's existing water and sewer systems do not have the capacity to accommodate the proposed land uses, and upgrades would need to be paid for by government or future developers of the site.
"Additional studies are required to determine upgrade requirements. "These will be required to be undertaken prior to any development taking place."
Local resident John Andrews. Picture by Mark Scott
Source: Interview, Nov 30 John Andrews, Mooney-Cheero Progress Association Website, Dec 3 LEP Tracking, NSW Planning Website, Dec 3 Peat Island, Property NSW Media release, Nov 26 Liesl Tesch, Member for Gosford Jackie Pearson, journalist
PEAT ISLAND:  BEAUTIFUL FOR NOW!
EVERYONE DEMAND NSW INC & NSW PLANNING DESIST WITH OVERDEVELOPMENT!
SOURCE:  https://coastcommunitynews.com.au/central-coast/news/2018/12/property-nsw-close-to-resubmitting-peat-island-planning-proposal/?fbclid=IwAR11272UAt2CU02tvtbsoVhdU5QaIwTzN66ih1V6P-qteArvRosVaiRvgyE