Developer lobby begs Ponzi Turnbull to calm Sydney revolt
After Victoria's lobby builder's freaked out a few days ago about being unable meet the demand for population growth homes, a NSW equivalent has today exposed just how shaky is the entire growth model, via Domainfax:
…the Urban Taskforce, a group representing the development industry, said the plan did not expressly say how it would ensure that medium-to-high density apartment living would be given planning certainty in a time when density was politically contentious.

"There is significant tension in the community about this change and we believe the plan should have shown more advocacy," said Chris Johnson, the taskforce's CEO.

"The language in the GSC's plan is about more diverse housing and about a mix of house types presumably leaving the actual mix to council plans."

Mr Johnson argued that leaving the determination of the plans open could expose them to political pressure from MPs concerned about "stopping the squeeze".
Advocacy won't help. Indeed it will probably make it worse.
The problem is not the public relations, it is the Ponzi Turnbull plan in its entirety which Sydneysiders are waking up to in fright.
Who could blame them when what the Urban Taskforce is really demanding of the Commission is for it to hoodwink Sydneysiders into believing that their living standards should be crushed.
As Infrastructure Australia showed, whichever path of development Sydney chooses under a population growth regime, it's access to transport, schools, hospitals and green spaces will be badly degraded: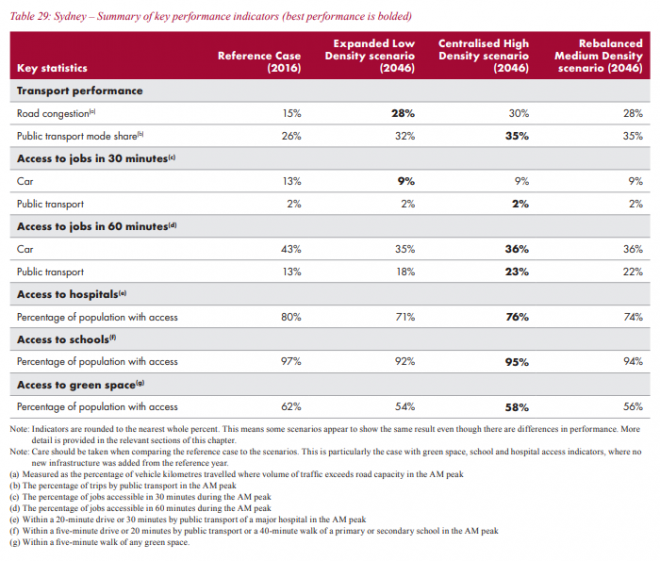 The Urban Taskforce itself explained why the city is in revolt, from December:
While Sydney's apartments are most likely to be occupied by singles (34 per cent) or couples (27 per cent), the report highlights rapid growth in couples with children living in apartments. These households – dubbed "vertical families" – jumped from 65,000 families in 2011 to more than 87,000 in 2016, an increase of 34 per cent.

One in five apartments in Sydney is now occupied by couples with children.

The top five suburbs for these vertical families are Parramatta, Bankstown, Westmead, Liverpool and Campsie.

There has also been strong growth in the share of apartments occupied by single-parent families; they now account for 8 per cent of those living in high-density accommodation. The number of single parent families in apartments has grown by 14 per cent since 2011.

Report author Mark McCrindle said… "Couples with children is one of the fastest growing segments in the apartment category"…

Apartment dwellers are also much more likely to be tenants: 63 per cent of Sydney's apartments are rented compared with just 18 per cent of detached homes.

Those living in apartments are very mobile and 55 per cent have lived in their current home for less than five years. They are also much more likely to be born overseas than those living in detached homes…

The report forecasts the share of detached houses to fall to just 25 per cent of Sydney's housing stock by mid-century.

"Towards the end of the 2050s, apartments will become the most dominant housing type of any other accommodation in Sydney," it said.
Why would any sane Sydneysider choose this future if s/he was not going to be one of the few elites made stinking rich by it?
I put it to the Taskforce that the last thing it needs is Ponzi Turnbull emerging from her desiccated cloister to advocate for this plan. The more people that know about it the quicker it will collapse.