This comment sums it up …
'Yep our pollies are deliberately running a protection racket for foreign white collar criminals in sectors that support our GDP.
The vast families of Chinese triads associated with banking, drug and RE development money desperately needing to be laundered into countries such as Australia that protect them.
Our rent-seeking politicians wonder why their falling in the polls….. "debt-slavery" for citizens, "protection rackets" for international criminals.'
Also view CAAN:  "AUSTRALIA not just Victoria … the top spot for foreign property buyer breaches" but LVO goes harder on Tax Bureaucrats …
https://caanhousinginequalitywithaussieslockedout.wordpress.com/2018/11/28/4795/?fbclid=IwAR1r7A1BAe0ERB05RfJEPJ4aZW8ml470mzDGYa_kycixep0609MraWHfk_o
ATO goes soft on illegal foreign home buyers
Yesterday, a Senate hearing into Managing Compliance with Foreign Investment Obligations for Residential Real Estateheard that Victoria (read Melbourne) is the nation's hotbed for illegal foreign purchases of Australian property. It also heard that the ATO has gone soft on enforcement. From Domain:
Victoria has seen 877 breaches in foreign investment regulations since 2015… The state makes up 55 per cent of the national total.

Some 18 of the top 20 postcodes for breaches are in Victoria, with Glen Waverley and Box Hill among the Victorian areas to make the top 10.

Education of investors – and "intermediaries" such as conveyancers – was highlighted as an issue, after deputy chair of the Joint Committee of Public Accounts and Audit Julian Hill asked why Victoria was leading the charge…

Questions were also raised over why developers, real estate agents or conveyancers were not being fined for breaches, or for not reporting "dodgy deals."

"We do seek … to make sure that we have an intermediary sector than can assist rather than punish people for a lack of knowledge," Ms Robinson said.

Nationally, 1067 financial penalties had been handed out for breaches to laws totalling more than $5 million.

There were also 316 forced property sales in the past two years.
Here's more from The ABC:
Since May 2015, when the Federal Government announced a package of budget measures aimed at making it harder for people offshore to invest in Australia, there had been forced disposal of 316 properties worth about $300 million.

Mr Konza said this was a "significant amount of action".

But Julian Hill, deputy chair of the Joint Committee of Public Accounts and Audit, said: "I'm not getting that sense of confidence that you interrogate this data in a proactive way," adding that the agency needed to go after intermediaries, such as property developers, who are facilitating illegal purchases.

"Why out of all those breaches have you not prosecuted anyone?" Mr Hill asked…

Mr Hill noted, "The average $5,000 penalty is not much of a deterrent".

He also asked whether so far, in the cases of the 316 forced disposals, the investors were able to keep the capital gain. Mr Konza responded, yes if there was a capital gain, but said he would take the question on notice to be sure.
That Victoria is leading the way in illegal activity is not surprising, given it has also led the NAB residential property survey for the past four years: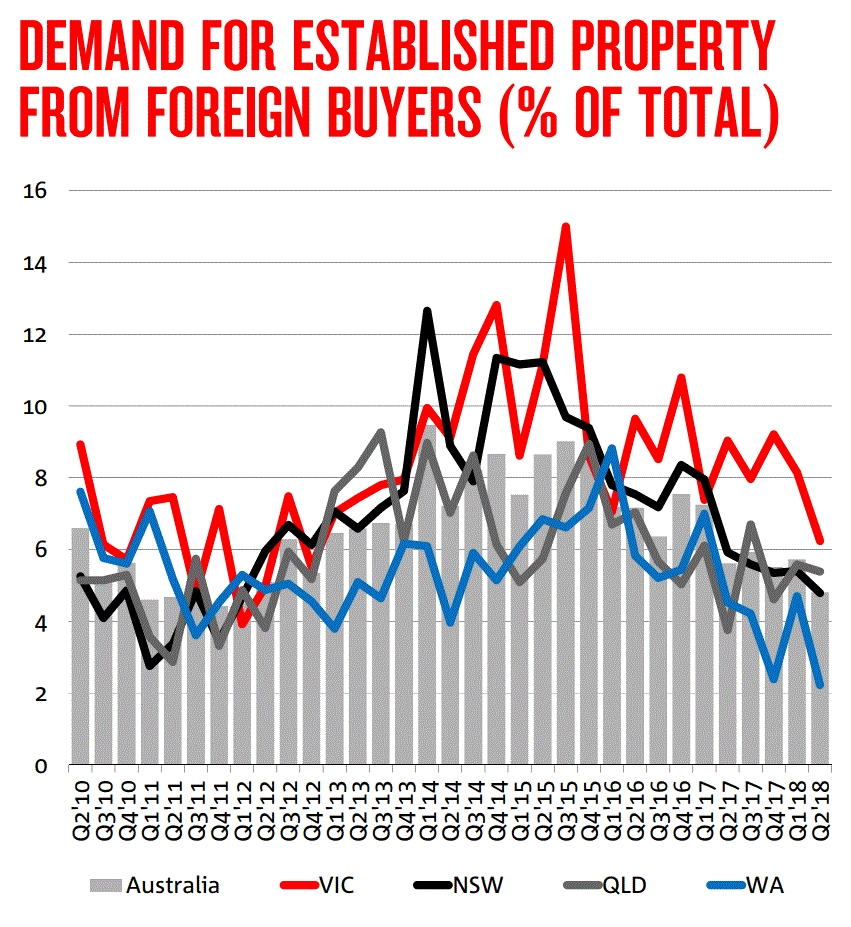 More importantly, this is pathetic enforcement by the ATO. $5,000 average fines and allowing illegal buyers to keep their capital gain is hardly a deterrent and represents a tiny cost of doing business.
Moreover, there has been not one prosecution of third parties (e.g. real estate agents, developers or conveyancers) for facilitating an illegal sale.
This comes despite a foreign national found having purchased an established dwelling without prior Foreign Investment Review Board (FIRB) approval, or having failed to dispose of a property once they have left Australia (in the case of temporary residents), facing the following penalties under the legislation:
Criminal penalty of $135,000 or 3 years imprisonment; or
Civil penalty of the capital gain made on divestment of the property or 25% of the purchase price or market value of the property (whichever is greater).
*Third parties that knowingly assist foreigners to illegally purchase Australian homes are also supposed to face penalties of $45,000 individually or $225,000 for a company, under the legislation.
We already know that the Coalition Government has shelved the promised implementation of anti-money laundering rules for real estate gate-keepers, despite warnings from the global regulator, the Paris-based Financial Action Taskforce, that Australian homes are a haven for laundered funds, particularly from China, and similar warnings from AUSTRAC.
Now the ATO's surveillance/enforcement actions against illegal foreign buyers have gone missing in action as well.
Clearly, the Australian Government has little genuine interest in policing illegal foreign buyers of real estate, and is tacitly complicit with the dirty money flooding into Australia's homes and robbing young Australians of a housing future.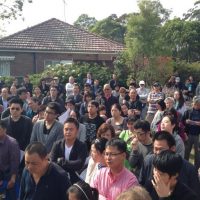 SOURCE:  https://www.macrobusiness.com.au/2018/11/ato-goes-soft-illegal-foreign-home-buyers/?fbclid=IwAR3KQ4lB5IoUDgeJb4blQoV10Zz8Q4zKEimWVanCgAxnFOHf82BzkaHfhuk
CAAN FACEBOOK:
https://www.facebook.com/Community-Action-Alliance-for-NSW-744190798994541/?ref=aymt_homepage_panel
WEBSITE:
https://caanhousinginequalitywithaussieslockedout.wordpress.com/