Three of the four remaining residents of Eurimbla Avenue Randwick will move out today … their homes are to be bulldozed for expansion of the Prince of Wales Hospital …
A consequence of the LNP High Growth Agenda …    Australian communities to "get out of the way" …
Eurimbla Avenue was a quiet cul de sac of 93 properties … its residents bullied and seen off financially … their lives disrupted … their community split up despite meetings, negotiations and consulting their own valuers and lawyers!
LIKE the WestCONnex victims the compulsory acquisition sums offered by the government's valuer did not allow them to buy an equivalent home in Randwick.
They have all been forced to compromise!
Philomel Collins, Dimitrious Hatzitoulousis and Maria Frangakis will vacate their properties today. One more will move out on November 16.
None have reached an agreement on the price of their properties, and their matters will be heard in the Land and Environment Court next year.
Hatzitoulousis said the experience has left him "knackered". But he is ready to fight on.
Collins moved to Pagewood, and now must take two buses to her volunteer work at the hospital where once she walked up the road. Cohen moved to an apartment in Camperdown.
Sarkis shot town altogether and moved to acreage at Tuggerah. He says he is happy.
FIND out more in our Website category:  Compulsory Acquisition & Land Amalgamation
The crows move in as Randwick's Eurimbla Avenue is wiped off the map
Eurimbla Avenue is a dead street. Crows started settling in the Randwick cul-de-sac months ago, before the properties were due to be bulldozed and when most people were still living in their homes.
Three of the four remaining residents will move out today, and the fourth on November 16.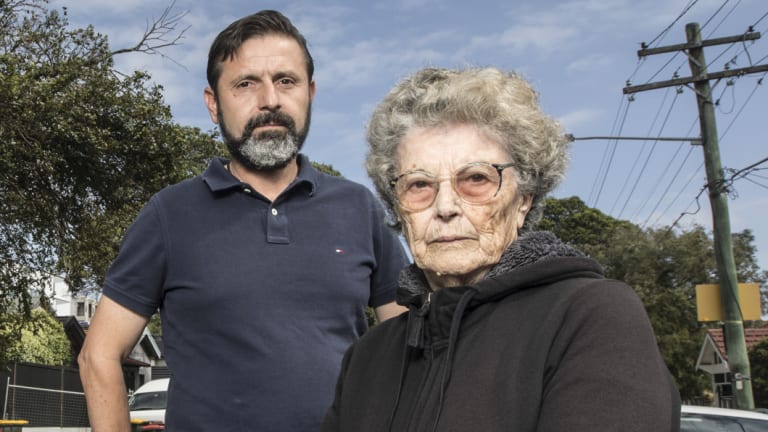 The avenue, lined on both sides by trees and semi-detached houses, divides lengthwise the block between UNSW and the Prince of Wales Hospital in Randwick.
Both entities have long eyed the block as a potential envelope for expansion, but last year the hospital emerged victorious when the NSW government announced its redevelopment in the 2017-18 budget.
The revamp meant a significant increase in the hospital's operating capacity and the announcement was met with universal acclaim.
Two days later, on the evening of June 22, 2017, a couple of smartly dressed women came door knocking down Eurimbla Avenue.
Eileen Collins was in bed when they rapped at her door about 7pm. The octogenarian made a habit of retiring early and rising before dawn to clean the house, sweep the gutters and tend to her garden on the nature strip.
*She did not think much of the women now telling her that her house was to be compulsorily acquired.
*The same thing had happened to her Woolloomooloo home in the 1970s when the Cahill Expressway was built and she had been given 10 years notice to move out. She reckoned she would be dead before this one went through.
"You two will be old before this ever happens," she told the women.
Then she read the letter they left behind and learnt she would need to vacate her home of 46 years in less than 12 months.
*"I nearly died," she says now. "I thought I was the landlord of my home. I'm not – the government is, and I'm just a tenant."
Further down the street, other residents were also reeling. Dinah Cohen, arriving home from work about 11pm was intercepted by a neighbour before she reached the front door.
He was visibly upset. "Have you heard the news?" he said.
Cohen's house was derelict when she bought it with her partner Wendy Gillett in 2004 and they had restored it with Gillett's brother Karl and father Dennis, all camping in it together for the months it took to build.
A red cedar bathhouse ran along the back of the block.
"We often used to say there was nothing we would have changed if we'd done it all again," Cohen says. "It was beautiful."
Karl had died of cancer six months earlier. Now the house was to go too.
It felt like the end of everything.
The following Saturday, about 30 residents of Eurimbla Avenue, along with a few from Botany and Magill streets which were also slated for demolition, met outside Cohen's house.
They exchanged stories about how they had heard the news. One woman's 11-year-old daughter was standing beside her when the women told them they were to lose their home.
The lawyers in the group were particularly vocal on the subject of residents' rights – some felt there was an element of competitiveness among them – and by the end of the meeting an action committee had been formed.
"We wanted to get the decision reversed but we always knew we had buckley's," says Dinah. "It was also about trying to get the best deal we could and making sure people were looked after, especially the elderly."
One afternoon Cohen and Gillett doorknocked every home in the street.
They learnt that among the 93 properties to be demolished there were nine residents over the age of 80 years old, 41 children, 56 owner occupiers, 26 renting from UNSW and 11 renting privately.
While the neighbours were coming to terms with their situation, another business was mobilising.
Almost immediately, residents started to receive brochures from removalists, storage companies and builders and cold calls from real estate agents.
Many people had little experience with lawyers, so the committee organised a series of presentations by lawyers versed in acquisition law.
They were advised to hire independent valuers for their homes. The lawyers told them to expect the government would undervalue their houses by 15 to 20 per cent.
Nobody really begrudged the hospital expanding, but it felt as though a whole other industry was responding with unseemly glee.
Somehow word caught on that valuations would be higher if the houses were done up for sale, and before long a mini-building boom took hold along the street – new kitchens and bathrooms were built for imaginary buyers, never to be used.
Sam Sarkis had been nearing the end of a renovation when he found out about the acquisition.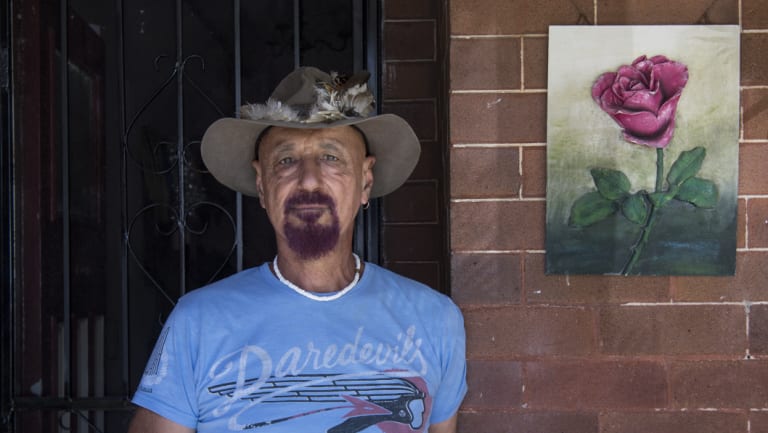 He had inherited the house from his parents and was making it nice for his new partner Heather Buxton. The crowning jewel was a three-metre wide and one-metre deep fish pond in the backyard.
"We had the perfect little set-up and it all went up in smoke," he says.
Eventually his fury coalesced around the expensive toilet he had installed shortly before the acquisition announcement.
Health Infrastructure officials told him that he could only take it with him if he replaced it with a working toilet, installed by a licensed plumber.
It was the final insult.
"You're going to bulldoze it," he screamed. "You're going to bulldoze my f—-ng home. Just give it to me you bastards."
The valuation process was fraught. True to the legal advice they had been given, the government valuations came in significantly lower than the private.
Sarkis, who is 64 and sports a purple beard, became a sounding board for residents.
He started hosting monthly catch-ups where people came to vent and exchange information. It became clear that the valuations were completely inconsistent.
Houses with fewer bedrooms or had not been renovated sometimes came in higher than those with more bedrooms and recent renovations. Some valuations were all over in 45 minutes. Others were conducted from the street.
Philomel Perry found the process deeply insulting. The valuer walked straight through the house without looking in a single room and then conferred with his offsider in the garden while she waited inside with her lawyer.
"Then he tells me that it's the smallest house on the street, which is humiliating to me," Perry says. "Her house next door is a two-bedroom house while mine is a three bedroom house."
Eileen Collins and Wendy Gillett decided to take their concerns to the Health Minister Brad Hazzard.
They met him in Macquarie Street and Collins asked him to her house for a cup of tea. To her surprise, he accepted.
"I like scones," he proffered. Kind words butter no parsnips with Collins.
"You don't think I'm going to bake scones for you, do you?" she replied.
In the end, Hazzard got his scones – baked by one of Collins' fellow volunteers from the hospital cafe – and Collins got Hazzard's measure.
In October 2017, he addressed the other residents of the street at her request, bringing with him the Health Infrastructure chief Sam Sangster, the local member Bruce Notley-Smith and project manager Andrew Greig.
"I want you to be treated as if you are the Premier's family," Hazzard told the gathering.
But the meeting quickly turned to disgruntlement over the valuations. It was common wisdom that the government's valuers could not be trusted, that they had a vested interest in offering lower values if they wanted to get more work from the government, and Health Infrastructure had a budget to meet.
The minister lost patience.
"I'm sorry that [is] just rubbish," he said. "I've got no interest in making sure you don't get value for your property. Of course we want you to get value for your property."
Said Sangster: "If we give you a price you can accept, we can get on with it."
If they were privately thinking that the residents' lawyers also had a vested interest in telling them that the government valuation was too low, this was not the forum to mention it.
An element within the room had become hysterical. "Look at me! Look at me! I'm sick!" one woman shouted. "You're making us all fight. That's not fair."
It was certainly true that the sums being offered by the government's valuer were not going to buy an equivalent house in Randwick.
Soon residents began running into each other at open-house inspections. They exchanged smiles and joked that they had caused a mini property boom in the suburb.
But it was not really funny. There were not enough houses on the market to go around.
Shortly after the meeting, the neighbours organised a surprise party to celebrate Collins' 88th birthday.
She had been told it was a regular residents' meeting and was touched to find the festivities were in her honour.
"For the first time in my life I'm speechless," she said.
She recalled how in the old days the neighbours looked after one another, when her father sat out on the front porch all day and old Mr G would tease him on his way to church.
"I'll say a prayer for you Murphy," Mr G would say. Her father, not a religious man, would shoot back: "You save your prayer for yourself, don't bother saying one for me."
It was one of the last happy times in the street before the negotiations began.
Each resident met with the government valuer, their own valuer and their respective lawyers to nut out an acceptable price.
The lawyers discouraged neighbours from discussing their offers with one another and people became cagey.
Some residents wanted to get it over and move on, others thought they might get more money if they held out.
The dynamic of the street started to shift.
Those residents who wanted to settle felt there was an element of resentment towards them from those who wanted everybody to hold on and force the government's hand.
Cohen was by now resigned to the fate of her house.
"You can scream and shout all you like but in the end the bastards are going to get it anyway," she said to herself. "I just need to get on with my life."
Gillett produced a quasi sales brochure to show the valuers, with before and after photographs of the renovation.
"We made them look through our photo album, we made them listen to our story," Cohen says.
"If they were going to knock our home down they needed to hear the impact it was having on our lives."
After four hours of negotiation, they agreed to a price.
By the time it was his turn for a negotiation meeting, Sarkis knew to expect it would be unpleasant.
He had retained acquisition lawyer David Newhouse, who was acting for more than a dozen residents.
"I'm glad he was on my side." Sarkis said. "He was nasty."
But after three hours Sarkis had had enough.
"You have come in and destroyed my life, you have taken my family home and you have given me shit money." he told the valuers. Then he walked out. "I wanted to punch somebody," he says.
Newhouse appeared on ABC local radio and a week later the government came back with offers that all but one of his clients could accept.
He says now that his main gripe throughout the process was fairness.
"Some received special treatment by the government and were invited to private minister meetings, some were allowed to stay longer while others weren't and some received more money than others. Some neighbours received more compensation than the adjoining property," he says.
Towards the end of summer, the street started to empty.
The tenants of rented properties were given compensation to leave. For those that owned their properties there was a new indignation when Health Infrastructure informed them that they would be charged rent to remain in their houses.
"The whole lot of them can go jump in the lake" Collins told her lawyer. "The answer is no."
She wrote Health Infrastructure a blistering letter and ran it past her lawyer.
"I don't think so, Eileen," the solicitor said.
"Ok I'll tone it down," said Eileen and penned another.
Her lawyer read the second one. "I don't think so," she said.
But Collins' story was picked up by the media and the government did not press the issue. Others were not so lucky.
The crows cawed on the road. Removalists' trucks arrived. Door knocks echoed down empty corridors. The impeccable garden kept by an elderly man on the hospital side of the road was left to decay.
Sarkis could not bear it. He dug up the two most established roses and rang the man's wife.
"Good news," he said. "I've got your 80-year-old and 50-year-old roses here. What's your new address?"
The old woman replied: "He doesn't want them. He's got all new roses."
On the day Sarkis was due to leave, he pulled out the lining of his fish pond and poured every piece of junk he could find into the hole.
Then he found the ugliest second-hand toilet he could and put it where his new one had been.
"That's my anger toilet," he told the long-suffering liaison officer from Health Infrastructure. She smiled tightly.
Philomel Collins, Dimitrious Hatzitoulousis and Maria Frangakis will vacate their properties today. One more will move out on November 16.
None have reached an agreement on the price of their properties, and their matters will be heard in the Land and Environment Court next year.
Hatzitoulousis, whose grandparents bought the house when they moved out from Cyprus, said the experience has left him "knackered". But he is ready to fight on.
Collins moved to Pagewood, and now must take two buses to her volunteer work at the hospital where once she walked up the road. Cohen moved to an apartment in Camperdown.
"It's a different life, but that is life," she says.
Sarkis shot town altogether and moved to acreage at Tuggerah. He says he is happy, though he cannot say the same for his fish.
"The big male one knows that his new pond is not as nice and I know he's pissed off," he says.
"They're all not happy, but they're starting to settle down now."
SOURCE:  https://www.smh.com.au/national/nsw/the-crows-move-in-as-randwick-s-eurimbla-avenue-is-wiped-off-the-map-20181026-p50c9h.html