PRIME MINISTERS sing his praises, property developers beat a path to his historic mansion and powerbrokers complain of "literally" having to kiss his ring.
Bishop Antoine-Charbel Tarabay, is the leader of Australia's Catholic Maronites.
One parishioner referred to the Bishop as a cleric with a coterie of wealthy property developers.
A former politician referred to a very tangled web between property developers, political movers and shakers and the church.
Since the retirement of two Maronite MPs, and with the incarceration of Eddie Obeid the Bishop has been agitating for new Maronite representation at all levels of government.
The Bishop has Liberal party figures assisting with an affordable housing project
-he has nominated aged care as a top priority for his church
-with two Church projects  having received $10 million in construction grants from the federal government
READ more for who's who in the Maronite property developer sector!
RELATED ARTICLES:
CATHOLIC CHURCH PLANS FOR 61-STOREY RESIDENTIAL TOWER ATOP 8-STOREY COMMERCIAL PODIUM
https://wordpress.com/post/caanhousinginequalitywithaussieslockedout.wordpress.com/2387
CATHOLIC CHURCH LEADS LAND GRAB IN WILTON WITH $17 MILION DEAL
https://caanhousinginequalitywithaussieslockedout.wordpress.com/2018/09/30/2268/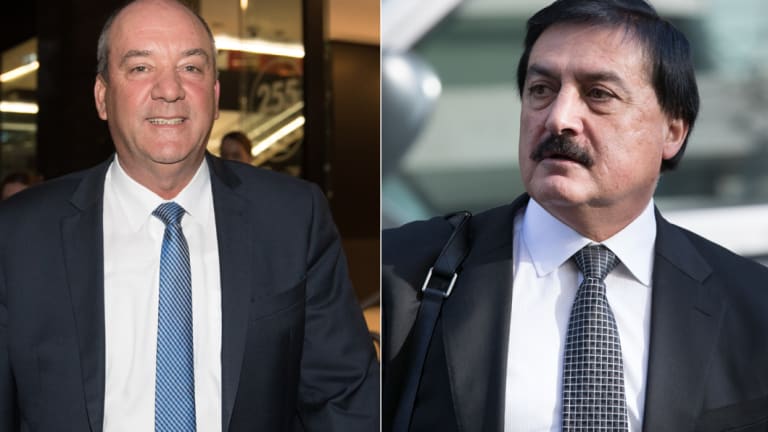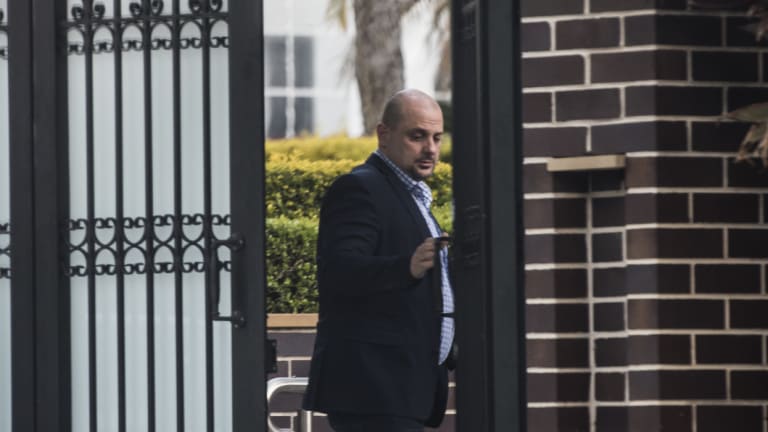 The bishop's ring: Catholic leader's political influence alarms
Prime ministers sing his praises, property developers beat a path to his historic mansion and powerbrokers complain of "literally" having to kiss his ring.
Meet Antoine-Charbel Tarabay, the controversial Catholic bishop whose pursuit of power and influence is raising concerns from the corridors of Macquarie Street to the pews of Punchbowl.
Since his anointment by Pope Francis as the leader of Australia's Catholic Maronites in 2013, some parishioners have become increasingly troubled by what they see as Bishop Tarabay's preoccupation with matters material rather than spiritual.
"The bishop just loves people who splash the cash," said one parishioner, referring to the cleric's coterie of wealthy property developers. "The No.1 currency of the bishop is cash."
"He does cosy up to developers and the big end of town, but so he should, because they will kick in to help build his church empire," another said.
Sources associated with St Maroun's College at Dulwich Hill have told the Herald they had raised concerns about financial irregularities dating back years.
They include allegations of cash payments made by the school to senior church figures, transfers of funds to Lebanon and hundreds of thousands of dollars in fees from international students that were paid in cash but not properly accounted for.
A St Maroun's spokeswoman said "the college's accounts are independently audited annually and have always returned an unqualified opinion" and that the school was co-operating fully with the current audit.
In the first part of a Herald investigation into the Maronite church, its leader Bishop Tarabay emerges as a political player keen on wielding influence and furthering the interests of wealthy figures within his Lebanese Maronite community.
Local politicians have told of their surprise when they turned up to lunches at the bishop's imposing Strathfield residence, only to find their host had placed them next to property developers keen to discuss projects.
"It's in Tarabay's interest to play matchmaker," said one former councillor who had attended the lunches.
"You'd go to a church event and Tarabay would lobby you on behalf of developers," said another. "He's power hungry and very pushy."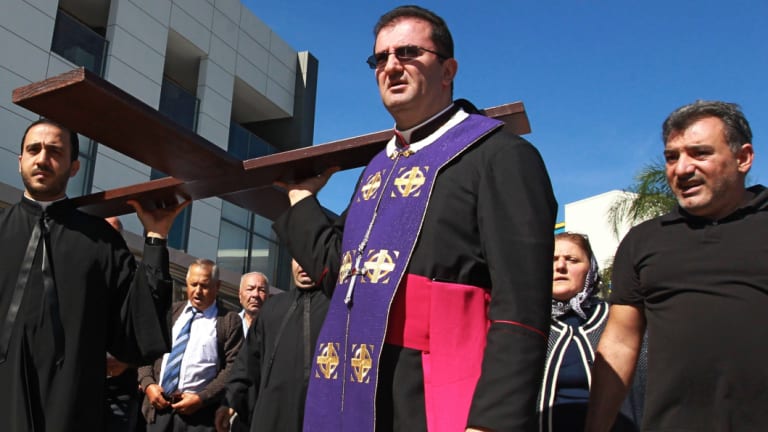 Bishop Tarabay said he did not accept characterisations of himself as a lobbyist or conduit for property developers.
As for the lunches, he said: "It is not uncommon in Australian society for politicians and business people to attend functions, and there is no reason why Australians of Lebanese heritage should be treated differently."
A former Canterbury councillor recalled the bishop attending a council meeting several years ago and sitting near Charlie Demian, a property developer who is now embroiled in a corruption inquiry that is examining deals done at the same council.
The bishop just loves people who splash the cash.

Parishioner
When the Herald separately asked Mr Demian and the bishop as to why they were attending a council meeting together, the pair responded with different recollections of topics to be addressed.
Mr Demian, who had owned land next to the church in Punchbowl, recalled Bishop Tarabay attending a discussion about rezoning the future site of an aged-care centre.
The bishop, however, remembered attending because a "severe rodent plague" at Mr Demian's property was troubling a Maronite school next door.
Mr Demian was later acting on the board of a Maronite aged-care project when his company won a $7 million contract to help build it.
Newspaper proprietor and developer Anwar Harb, a one-time business partner of disgraced former MP Eddie Obeid, confirmed that he had led a delegation of prominent Maronite businessmen to Lebanon, where they lobbied the church patriarch to secure Bishop Tarabay's ascension to the top job.
Mr Harb, a close adviser to the bishop, dismissed talk of any preference for the wealthy.
"I am telling you, he has no preference between a poor person and a rich person. He loves everyone, he is a man of God."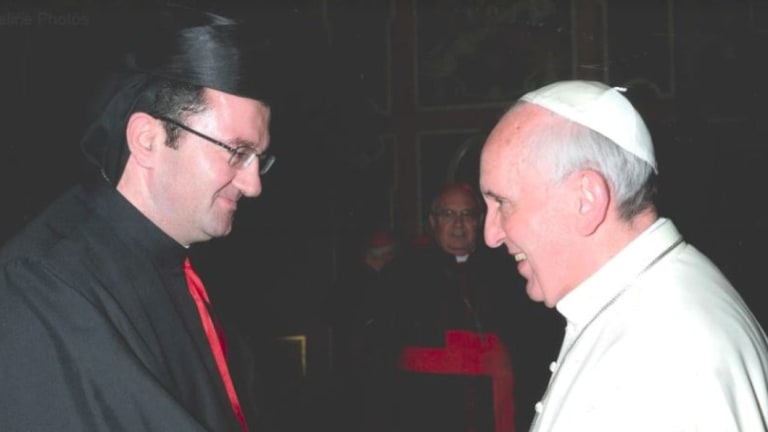 George Ghossayn, the demolition and excavation magnate who gave Obeid a character reference at his sentencing, initially denied donating his black S500 Mercedes to the bishop. He later admitted the bishop had indeed inherited his Mercedes after he upgraded to a Bentley.
The bishop had a prime seat at the award ceremony when Sarkis Nassif was named by developers as property person of the year in 2017. The man of the cloth also featured in a celebratory video for Dyldam's Joe Khattar when he won that gong the previous year.
Bishop Tarabay was a co-founder of Dyldam's main charity vehicle, the GNK Foundation, which is now at risk of losing its registration over failing to submit financial records to the charity watchdog.
But while he is still listed as "lifetime patron" on the website, the bishop said he no longer played any role in the charity.
'Stay out of politics'
Born in 1967 in the north Lebanon village of Tannourine, Bishop Tarabay chose the life of a monk, joining the Lebanese Maronite Order.
After serving as principal of St Charbel's at Punchbowl, he received a dispensation to leave the order and become bishop. He won the post over a more favoured candidate after some international lobbying efforts by the likes of Mr Harb and Mr Khattar from Dyldam developments.
"It was like an airtrain," a former politician said of the convoys of backers making the journey to Beirut.
*"There's a very tangled web of relations between property developers, political movers and shakers and the church."
Bishop Tarabay said he had "no direct knowledge" of who visited Lebanon to lobby for him and had not asked anyone to do so.
But he certainly has connections in high places. Cardinal George Pell wrote the foreword to his book on bioethics.
NSW Premier Gladys Berejiklian recently dined at the bishop's home.
Tony Abbott, as prime minister, knelt before him to kiss a proffered crucifix.
And current Prime Minister Scott Morrison accompanied him to Lebanon to celebrate his ordination, meeting his parents and praising in Parliament the sacrifice of "this generous and kind-hearted Sydney bishop".
*But since the retirement of two Maronite MPs and the departure of the now-incarcerated Eddie Obeid, Bishop Tarabay (who featured regularly in Obeid's diaries) has been agitating for new Maronite representation at all levels of government.
"He's very political, that's his fixation, and he's obsessed with getting his people into positions of power," said one current state member.
Political operatives from both sides have spoken of the bishop demanding to be treated deferentially, viewing himself as a kingmaker.
"We definitely had to pay homage to him," a former Labor heavyweight said. "It was literally like kissing the ring. It was like going to see the Godfather."
The bishop's recent protege was Gisele Doumet, who travelled to Lebanon in 2016 with senior Labor party figures including NSW Opposition Leader Luke Foley.  The tour was organised by Bishop Tarabay, the Herald has been told.
The bishop has touted Ms Doumet for several seats, most recently Parramatta, according to several sources. Mr Foley, when challenged on his enthusiastic support for Ms Doumet, has replied that she had the backing of the bishop.
"The Maronite Bishop of Australia has made clear to senior figures his support for ­Gisele Doumet," Mr Foley told News Corp in May.
But he was ultimately overruled by head office, despite the suggestion that tens of thousands of Maronite votes would be lost if the bishop's candidate was not preselected.
Ms Doumet said she was not running for preselection in any seat and was not aware of any previous efforts by the bishop to promote her.
One parishioner, who was annoyed over the bishop's attempt to have Labor consider Ms Doumet for Parramatta, said he told the bishop recently: "your role is to nourish the flock – stay out of politics".
Bishop Tarabay rejected suggestions that he had been overly political.
"The only Maronite vote I have the ability to direct is my own. However, as an Australian and as a community leader, I consider it appropriate to make representations to political leaders on behalf of the community I lead on matters of social importance," he said.
"I have provided encouragement to a number of political candidates from within my community who aspire to serve in political life."
Meanwhile, Liberal Party figures are assisting the bishop with his dreams of an affordable housing project.
Controversial former Bankstown councillor Jim Daniel – found not guilty of a smear campaign against a Labor candidate involving paedophilia allegations – is one director of the church's Kadishat Housing venture.
Also on the board are current Canterbury-Bankstown councillors George Zakhia and Charbel Ishac.
When asked about their appointments, the bishop said simply: "they offered their services".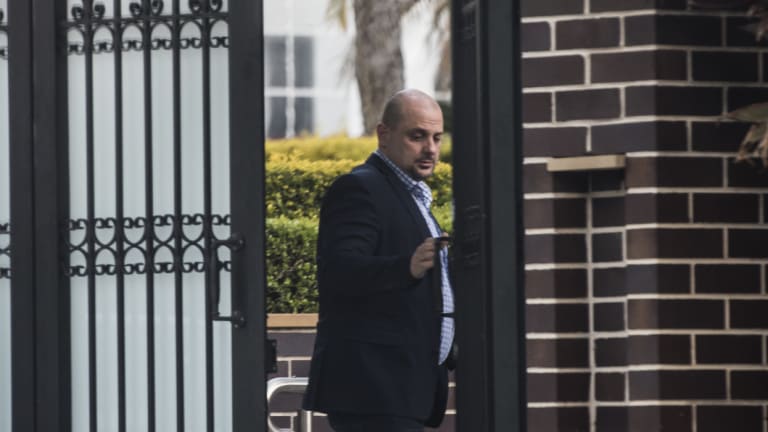 *Aged-care ambitions
Bishop Tarabay has nominated aged care as a top priority for his church. However, two church projects, which have received $10 million in construction grants from the federal government, have brought together a series of names heard in recent hearings of the Independent Commission Against Corruption. (ICAC)
The current ICAC inquiry Operation Dasha has heard that Mr Demian, the property developer, was receiving help from the disgraced former Wagga Wagga MP Daryl Maguire, who promised to link him up with a "mega rich" Chinese funder.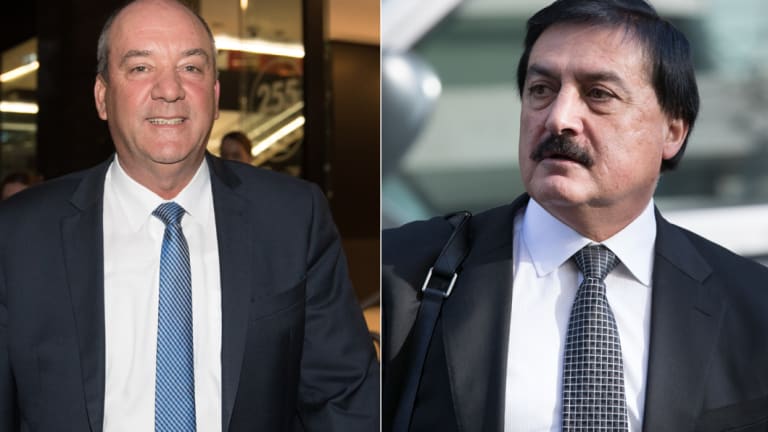 Mr Demian also stands accused of receiving favourable outcomes from the former Canterbury council.
Last June, he was appointed to the board of St Charbel's Care Centre Ltd, the company that has received a $2.7 million grant to help build a Maronite church nursing home in Punchbowl.
The development site was one that Mr Demian knew well. He had sold it to the church for $2 million in 2010 (Bishop Tarabay's was one of the signatures on a transfer document) and developed 87 villas on the surrounding property.
Not only was Mr Demian on the nursing home's board of directors, but he also co-owned a company that then won a $7 million contract to help build it.
His co-owner in that venture was his lawyer Charbel Azzi, who is now busy defending Mr Demian against tax assessments of more than $35 million. Mr Azzi also has directorships on several Maronite charity boards and said his work on the aged-care construction was also entirely pro bono.
Mr Demian quit as a director of the aged-care project and the construction company in May, a month before public hearings at ICAC began.
Mr Demian said he left for personal reasons and that there had been no conflict of interest in his firm receiving a construction contract from a board he sat on.
"The works contract awarded was based on a stringent tender process to undertake the construction works on a free margin costs basis," he said.
"I received no financial benefits, and all works done was on a voluntarily basis, hence no conflict of interest could arise."
The design firm on the project – employing "traditional Lebanese housing typologies" – belonged to the brothers Marwan and Ziad Chanine, who are being investigated by ICAC over another development approval.
Council documents show the contact for the project was Barry Barakat, a banker and property investor who serves as a director of another Maronite nursing home project alongside the bishop.
Mr Barakat said all his work was provided pro bono, while the Chanine architecture firm had been chosen for its previous charitable work and "on the basis of their experience and culturally sensitive knowledge for the particular project brief".
ICAC investigators have been looking into a potentially corrupt development decision relating to a project from which Mr Barakat and the Chanine family stood to benefit, as well as the Labor Party fixer Bechara Khouri.
Mr Khouri, who has appeared as a witness in three ICAC inquiries, received a retainer of up to $15,000 a month to lobby councillors on behalf of Mr Demian. He also represented the Chanines' interests.
Not being a Maronite himself has not stopped Mr Khouri from making contacts at Maronite church functions.
It was at the Our Lady of Lebanon church in Harris Park that he first met Mr Demian, ICAC has heard.
The current ICAC inquiry continues and no findings have been found against any person named in this article.
Bishop Tarabay, when asked about the appointments of figures to the aged-care project, said "I had no responsibility for this project and was not consulted in relation to any decisions made about the matters raised".
On Monday, part two of the Herald's investigation into the Maronite church looks at a school under fire for financial irregularities and the rehabilitation centre that never got built.
DO YOU KNOW MORE?
Kate McClymont is an investigative journalist at The Sydney Morning Herald.
Patrick Begley is an investigative reporter for The Sydney Morning Herald.
SOURCE:  https://www.smh.com.au/national/nsw/the-bishop-s-ring-catholic-leader-s-political-influence-alarms-20181005-p5080m.html
CAAN FACEBOOK:
https://www.facebook.com/Community-Action-Alliance-for-NSW-744190798994541/?ref=aymt_homepage_panel
WEBSITE:
https://caanhousinginequalitywithaussieslockedout.wordpress.com/